SSC CGL exam is conducted by the Staff Selection Commission, this exam is for all India level in which CGL stands for Combined Graduate Level. We have started a thread of articles for SSC CGL exam in which we will try to touch all the aspects like courses, books to study, post offered, examination process and test papers etc. So, be in touch to get all information regarding SSC CGL 2019.
What is SSC CGL?
SSC CGL is an exam which is organized by the Staff Selection Commission to recruit all graduate aspirants at India level in various government sector like Income Tax Dept., CAG, IB, CBI and various clerical job etc.
To get the UPSC/IAS exam detail click here
Eligibility Criteria & Age Limit for
SSC CGL 2019 Exam
An applicant must be a resident of India.
The candidate must also hold the required educational qualification for each post to be filled through SSC CGL 2019 exam.
SSC CGL 2019 Post
Educational Qualification
Assistant Audit Officer
Bachelor's degree in any stream from a recognized university
Or
Desirable Qualification: CA/CS/MBA/Cost and Management
Accountant/Masters in Commerce/Masters in Business Studies
Statistical Investigator Grade-II Post
Bachelor's degree from any recognized university with 60% aggregate in Mathematics in Class 12th
Or
Bachelor's degree in any discipline with statistics as one of the subjects in Graduation
Compiler Posts
Bachelor's degree from any recognized university with Economics or Statistics or Mathematics as compulsory or Elective Subjects
All other Posts


Bachelor's degree in any discipline from a recognized university
The candidate must fall under the prescribed age limit specified by the Government of India, the detail to which is mentioned below:
Required Age Limit
SSC CGL 2019 Post Name
18-30 years
Assistant (Group B)
20-30 years
Assistant Section Officer A, D, E, G
Sub-Inspector (Group B)
Assistant
Tax Assistant
18-30 years
Inspector (Central Bureau of Narcotics)
20-30 years
Assistant
Auditor
Junior Accountant
Inspector (CBN) Compiler
Upper Division Clerk
Tax Assistant
Assistant Account Officer
Sub-Inspector
Not exceeding 30 years
Assistant Audit Officer
Assistant Enforcement Officer
Inspector of Central Excise
Inspector of Preventive Officer
Assistant Audit Officer
Inspector(Examiner)
Assistant Section Officer
Inspector of Income Tax
Up to 32 years
Junior Statistical Investigator
Up to 30 years
Sub-Inspector
Assistant Enforcement Officer
A candidate is required to be physically fit as per the standards of the inspector as there are some prerequisites for physical fitness for the post of Inspector (Central/State Excise/Examiner/Preventive Officer), Sub-Inspector in CBI (Central Bureau of Investigation) and sub-inspector in NIA (National Investigation Agency).
If you are eligible for this examination you can apply here.
SSC CGL 2019 Exam Pattern
There are total four tiers of this exam in which Tier 1 & Tier 2 is compulsory for all the post while tier 3 is compulsory for 'Statistical Investigator Gr. II' & 'Compiler' and tier 4 is for 'Assistant Audit Officer'.To appear in all these tiers you will have to clear all the previous tier respectively.
For PSU' GAIL Exam Detail click here
Mode & Marking Pattern of SSC CGL 2019 Exam
Tier 1 and Tier 2 of CGL exam will be conducted in online mode.
Tier 3 is a descriptive test to be conducted in pen and paper mode.
Tier 4 is just conducted to test proficiency in computer knowledge.
Duration of Tier 1 is 60 minutes, Tier 2 is 2 hours for each paper and for Tier 3 is 60 minutes.
As for marking scheme, for Tier 1, 3 and 4, 0.50 marks are deducted for each wrong answer. For Tier 2, 0.25 marks are deducted for each incorrect answer.
SSC CGL 2019 Exam Syllabus & Pattern for Tier 1
Number of Papers
1
Total Number of Questions
200
Total Number of Sections
4

Sections


General Intelligence and Reasoning
General Awareness/ General knowledge
Quantitative Aptitude
English Comprehension
Total Marks
200
Negative marking
0.50 marks deduction for each wrong answer
Question Type
Objective
Total Time
75 Minutes
SSC CGL 2019 Exam Syllabus & Pattern for Tier 2
Number of Papers
4
Subjets
Paper- 1: Quantitative Ability
Paper-2: English Language and Comprehension
Paper-3: Statistics (only for post of Statistical Investigator Gr. II & Compiler
Paper-4: General Studies (Finance and Economics) (Only for the post of Assistant Audit Officer)
Total Marks
800 (200 for each paper)
Total Time
2 hours for each paper
Negative Marking
0.25 mark deduction for each wrong answer
Question Type
Objective
SSC CGL 2019 Exam Syllabus & Pattern for Tier 3
NUmber of Papers
1
Toatl Marks
100
Question Type
Descriptive
Sections
Essay Writing
Letter/Application Writing
Passage Writting
Total Time
1 hour
Exam Mode
Offline
SSC CGL 2019 Exam Syllabus & Pattern for Tier 4

Total Marks

Qualifying

Total Time

15 minutes

Mode of Exam
Online

Tests

Data Entry Skill Test (DEST)/Computer Proficiency Test (CPT)

Computer Proficiency Test (CPT)

Only for candidates applying for post of Assistant Section Officer
Three modules: Word Processing, Spreadsheet and Generation of Slides

Data Entry Skill Test (DEST)

Only for candidates applying for the post of Tax assistants (in Central Excise and Income Tax)
Criteria: 8000 key depression per hour
Important Dates of SSC CGL Exam 2019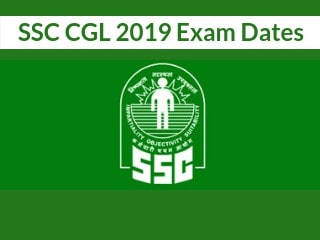 The new notification for SSC CGL 2019 will be announced in last week of October as per expected and Exam will be conducted for that notification in 2020, currently, the expected examination date of SSC CGL which was notified in 2018 is as below:
| Activity | Dates |
| --- | --- |
| SSC CGL Tier-I | 04th June to 19th June 2019 |
| SSC CGL Tier-II | 11th September to 13th September 2019 (CBE)* |
| SSC CGL Tier-III (Des) | 29th December 2019 (MORNING) |
| SSC CGL 2019 Tier-IV Exam | To be notified later |